When you're traveling, I'm sure it's important for you to be able to plan as easily as possible. That's why I've put together a list of the best apps for 2020 that will help you do just that. Some of them even work offline. Additionally, it's always good to have something to pass the time while you're on the road.
I have a few tips for you on that, too. Maybe there are some interesting and new things you can use. So the useful apps on your iPhone or Android devices can be extremely helpful, especially when traveling. However, many of them require a working internet connection while traveling.
Best travel planning apps and other useful applications
Booking flights and accommodations, planning itineraries, taking care of finances, etc. These seemingly tedious chores may turn out to be easier than you think. If you install the right travel apps on your smartphone, you can make travel planning really easy. By now, it's actually already possible to do all the organizing with your phone. This is especially convenient since you can do it anytime, anywhere.
1. Booking.com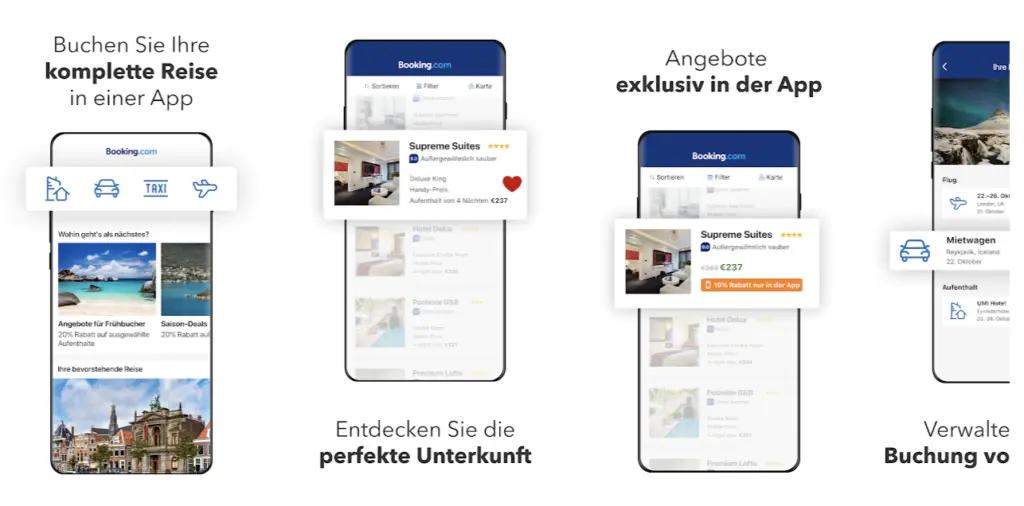 A great way to find different types of accommodations is to use Booking.com's app. It doesn't matter if you want to book a hotel room, an apartment, a bed in a hostel or a guesthouse. With such a huge selection, you're sure to find what you're looking for. To quickly find the right offers for you, you can search using a filter. This is very useful, for example, to specify your desired price range. Also helpful are the reviews from guests, which make decisions easier. All in all, the app makes your travel planning much easier.
2. Trivago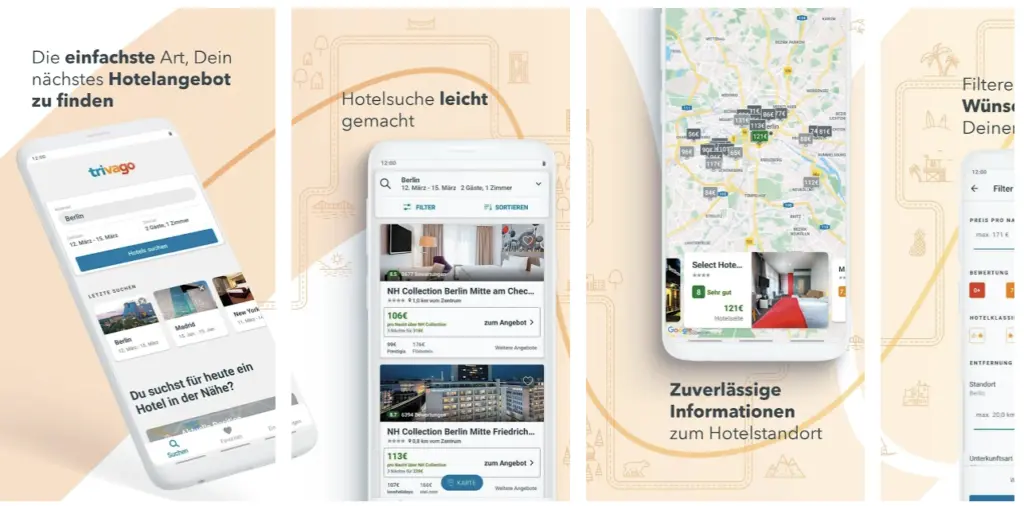 Trivago is also quite handy. With this app you can compare prices of hotels all over the world. If you find your desired accommodation cheaper on one booking site than on another, you can save good money. Trivago is called a metasearch engine because it specializes in searching for hotels. For example, if you select a hotel, it will show you on which website you can book it the cheapest. You can also read reviews. Thus, you can be sure to get the best possible deal.
Trivago App
3. Hostelworld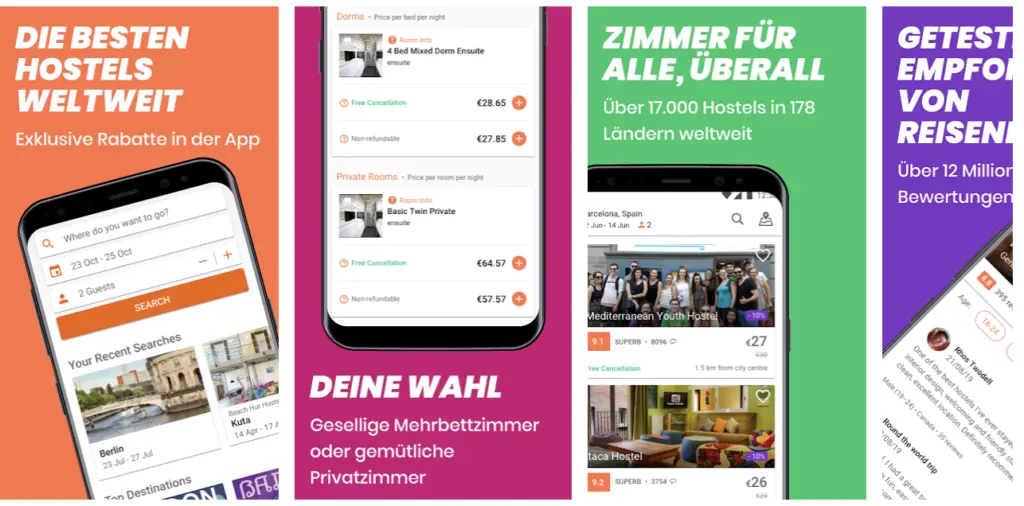 A must for backpackers is definitely the app Hostelworld. With it, you can find the most suitable hostel for you. From quieter accommodations to hostels where people also party, everything is there. In total, there are over 17,000 hostels worldwide in the database. The accommodations that you can book through Hostelworld are already available at very low prices. In addition, you can find great free activities. This is of course a clear advantage for your travel budget. Here you can also see reviews from other guests.
4. Airbnb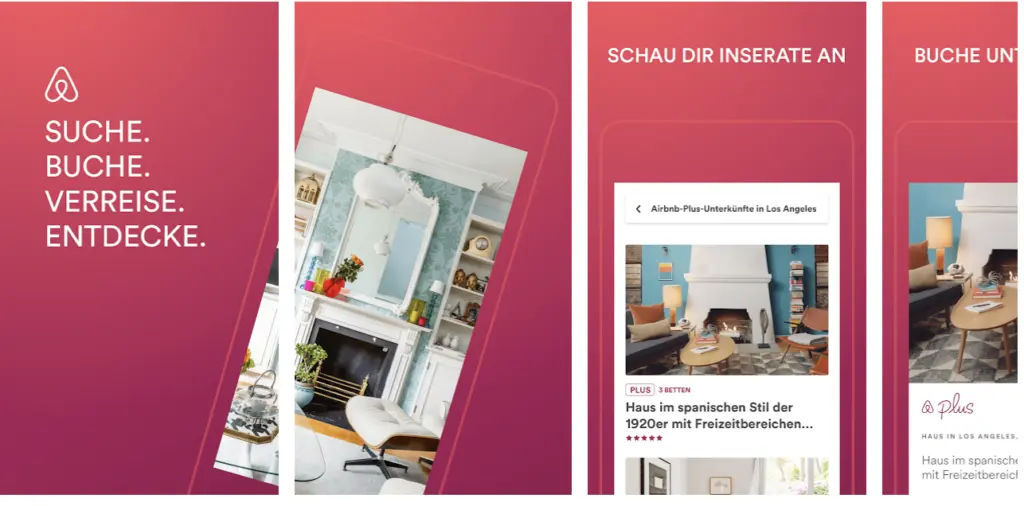 You can also use the Airbnb app to find accommodation for your trip. The difference to other booking platforms is that many private people offer their apartments or rooms. If you plan to make a longer trip, you can also find many long-term accommodations with the help of the app. A plus is in any case the direct communication with the host if questions should arise. Many also provide tips on possible activities in the area. By the way, you can also use the platform to offer available accommodation at your home as a host yourself.
Airbnb App
5. Aircanner
As the name suggests, the Aircanner app is helpful when it comes to finding suitable flights. You can also book entire trips. In any case, the focus is on comparing airfares. The great thing about the app is that it shows you with a calendar when your flight would be the cheapest. In your search, you can filter by airline or number of stopovers, for example. In addition, there is the function to save flights. If you are interrupted in your planning, you don't have to start all over again.
6. TripAdvisor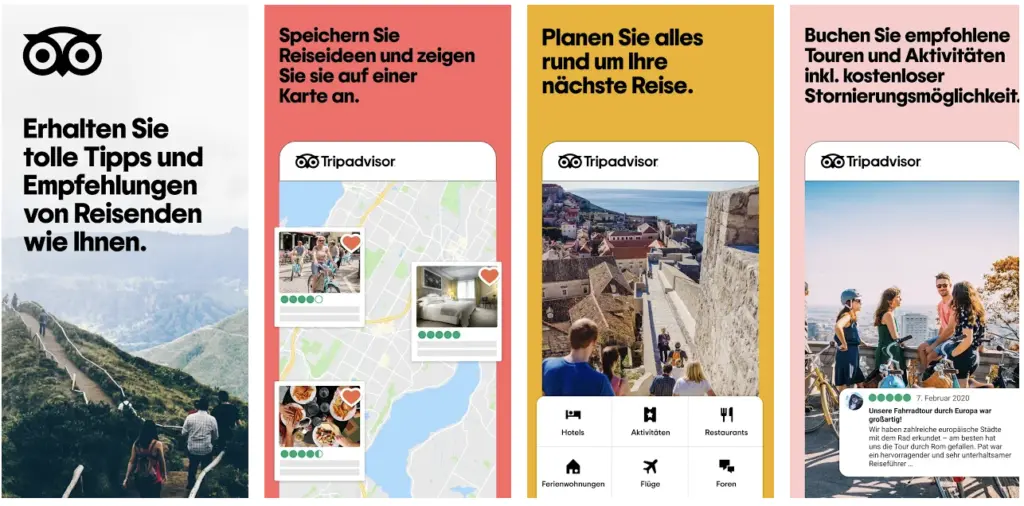 I also love using the Tripadvisor mobile app when I travel. It's wonderful for keeping an eye out for suitable tours or activities. You can also book them right in the app. The advantage is that you can see how other visitors before you liked certain excursions or sights. After your trip, you can also rate them. Tripadvisor is especially useful if you are spontaneously looking for a good restaurant. You'll get an insight into the atmosphere and the type of food served.
7. Guides by Lonely Planet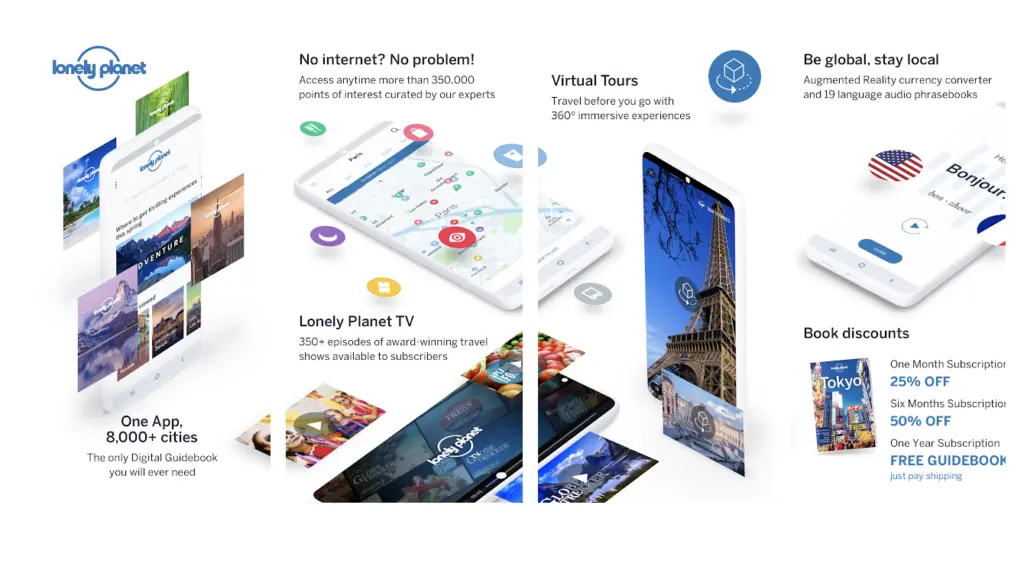 Lonely Planet's travel guides in book form aren't the only great thing. I have to praise the Guides by Lonely Planet app as well. I'm particularly fond of the audio language guides and expert tips. You can communicate with locals in 19 languages. Another handy feature is the option to save locations. You can even view many cities in 360° mode, which is pretty cool. Overall, it's an app that you can definitely use when traveling.
8. KAYAK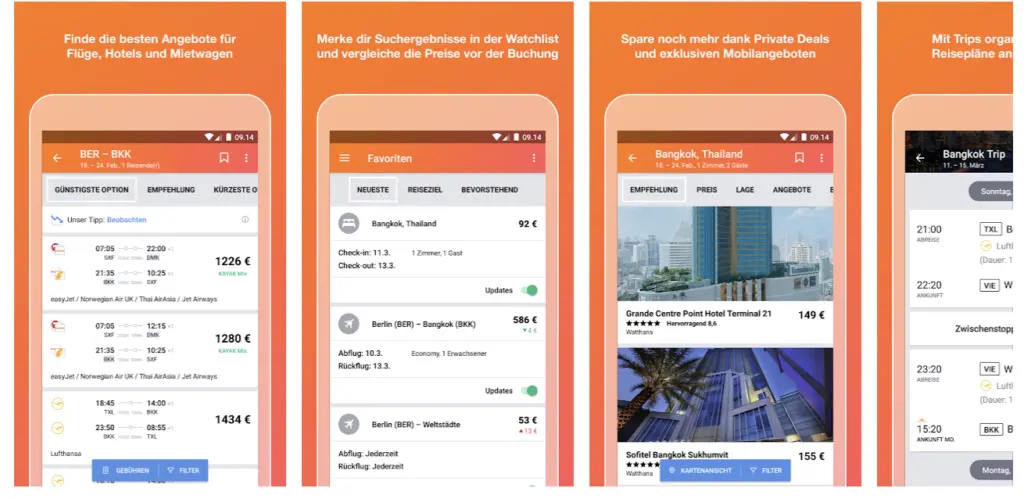 The handy flight search engine also finds small local low-cost airlines around the world. In addition to flights, you can also search for hotels. Helpful is the integrated flight status check, which informs you about possible delays directly on your smartphone. This way you know early enough. You can also view the flight position on a map and check the flight status. The trip management is also exciting. All booking confirmations can be forwarded to KAYAK and integrated into the app.
9. Couchsurfing
The Couchsurfing app is also about accommodations, but they are of a slightly different nature. The concept is to stay with locals. This way, you can get to know their culture at the same time, which is incredibly exciting. You might even be able to make some new friends. With Couchsurfing Hangouts, you can find people who are currently in the area and who might want to do something. You can also search for events happening in the city you're in.
10. Google maps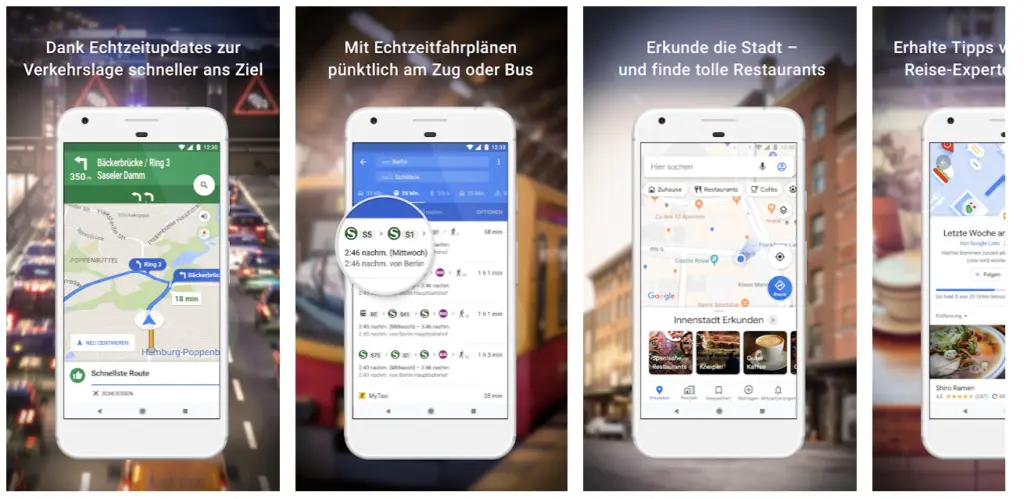 Google Maps is very handy when it comes to navigation. Not only will you find the fastest way with it, but you will also be informed about the current traffic in real time. The practical thing about the app is that you can also use it offline. So if you have already planned a destination, you can't get lost anymore. You can also search for the nearest bars, restaurants or museums. Another plus is the Street View view and indoor maps for large buildings.
11. Weather for the world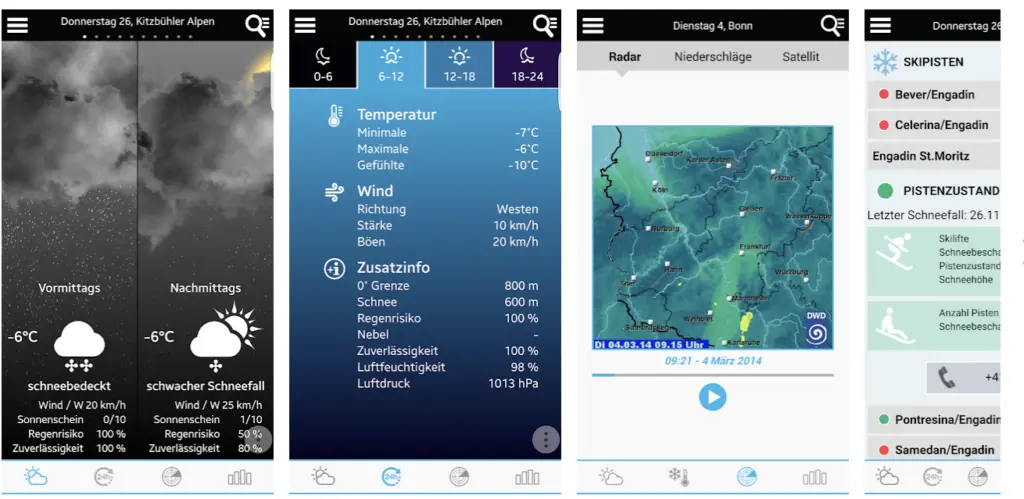 The Weather for the World app doesn't need many explanatory words. When traveling, you probably always want to be able to plan a bit in advance – even when it comes to the weather. The app is great for that, as it provides real-time information. For example, you can see how likely it is that it will rain. It's great that the weather is predicted for 10 days. So you can also decide before the trip what clothes you want to pack.
12. WiFi Map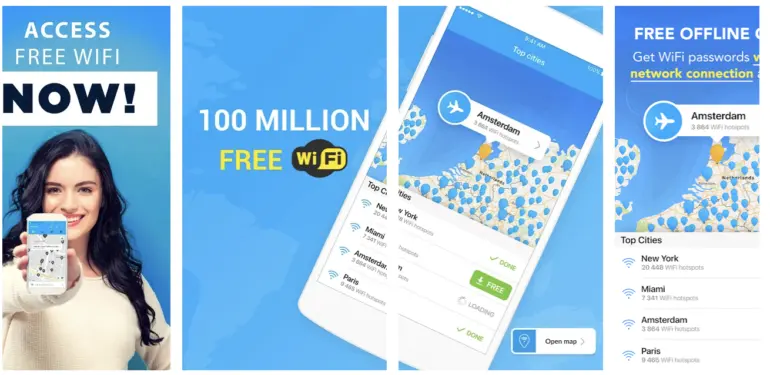 Installing WiFi Map can be worthwhile if you're looking for Wi-Fi hotspots when you're on the road. It gives you the ability to find free options for internet use near you. You can then save the networks and even run a speed test. WiFi Map is a great way to save a little money on your travel budget. You might even be able to treat yourself to an extra or two in return.
13. Dropbox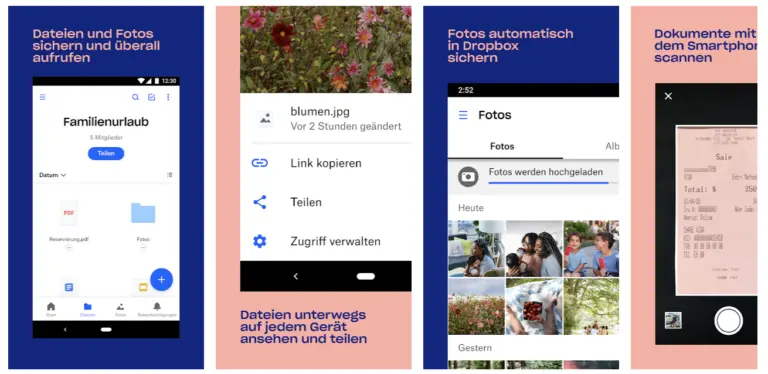 With the Dropbox app, you can access all your documents on the go. The important documents such as airline tickets or IDs can be marked as favorites and are thus always accessible even offline. The important thing here is to scan all your travel documents before you start your trip and store them logically in Dropbox. The app can also prove helpful for you if you work as a digital nomad, for example. This way, you have the option to access relevant files even when you are abroad.
14. Outbank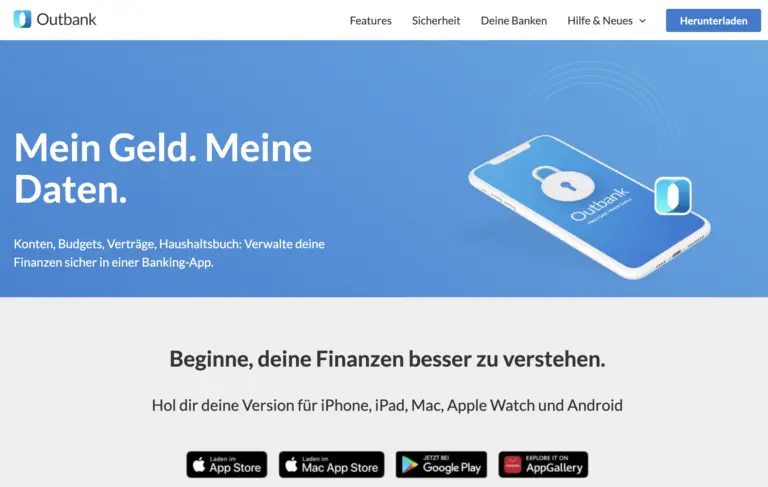 The Outbank app makes it possible to access and manage all accounts on the go. This way, you are always informed about the current account balances and can also quickly initiate a transfer via the app. Having an overview of all your accounts and therefore account balances is very handy. You always have an eye on what you can afford when you travel. Outbank can also synchronize via iCloud, for example, so that the current status is always retrieved on the other devices as well.
15. Google translator
The number one app when you need a quick and easy translation is probably Google Translator. Not only can you get texts translated from other apps, but also by taking a picture of them. Not only can photos be translated, but instant translations can be made when you point your camera at a text. So if you want to talk to locals and don't understand their language, this is very handy. They will be happy if you make an effort to communicate in their language.
16. SplenDO To-Do List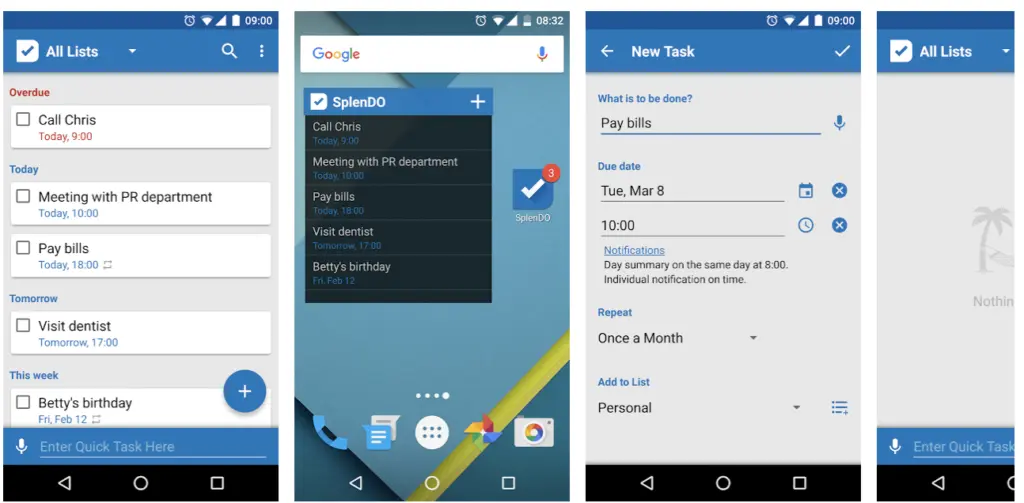 It never hurts to have an app where you can list everything you want to get done. For example, you could make a list of the sights you want to visit. But the SplenDo app is also useful if you work as a digital nomad. Then you can keep track of your to-do tasks. Notifications can also be set as an option. It is easy to use and also works via voice control.
17. PackPoint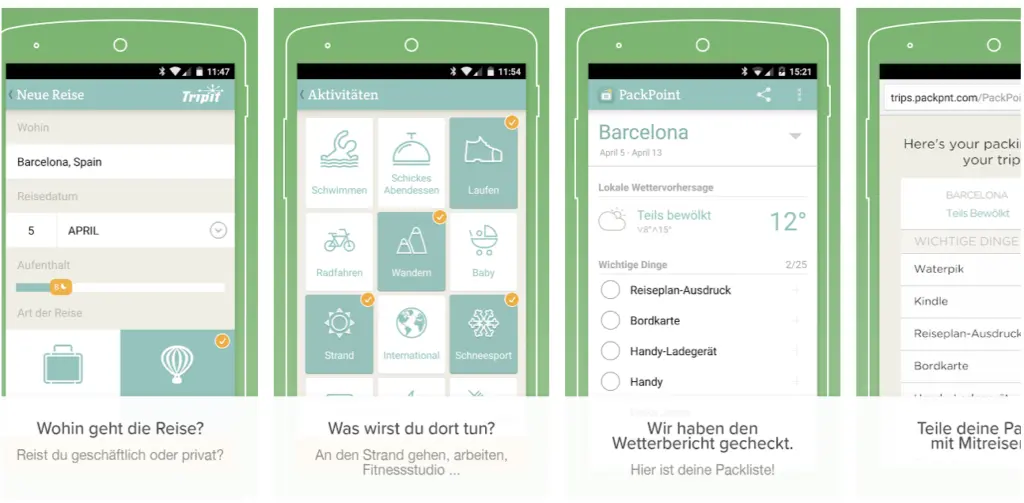 Looking for an app that lets you create the packing list for your next trip? It looks like you've found it with PackPoint. What makes it special is that it takes into account the duration of your trip when creating it, and also pays attention to the weather. This is done by entering your destination and the duration of your stay. No matter what excursions you have in mind – these will also be included in the planning. For more features, you can also buy the paid version of the app.
18. Safe travel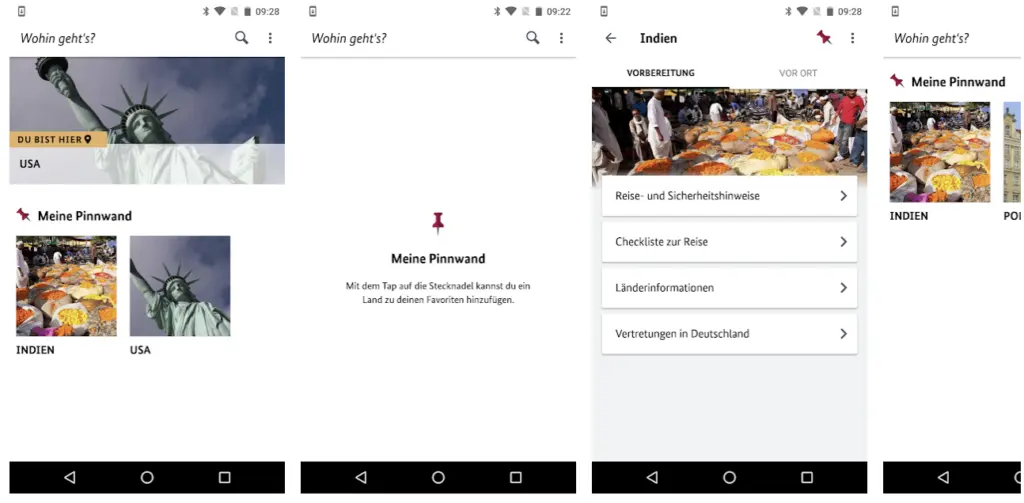 An indispensable app is Sicher Reisen. It was created by the German Foreign Office and informs you about everything you should know about your destination country. For example, you can find all the addresses of the German missions abroad. The information about customs in other countries and safety tips can be very helpful. In the app, you can see what you should read in preparation and what you need to pay attention to on-site. So you can start your trip well informed.
19. Skype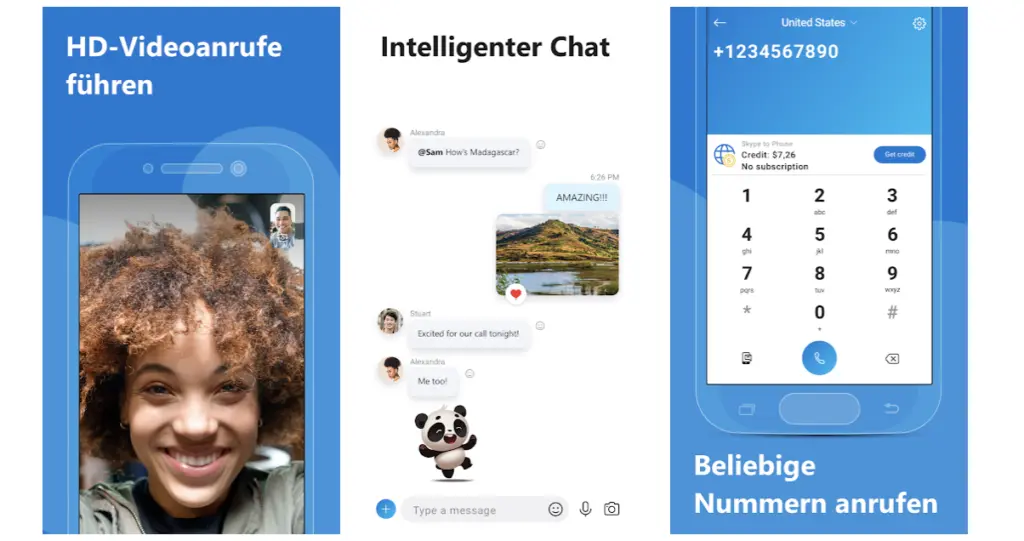 The Skype app is the perfect way to stay in touch with your loved ones via chats and video calls. If you want to communicate on business, the app is great for that too. If you don't want the video feature, you can also make voice calls, but this comes at a cost. The app is also available for laptops – you'll have a better view there. So overall, Skype is perfect if you want to make calls or maybe get homesick and send messages.
20. Currency converter – Finanzen100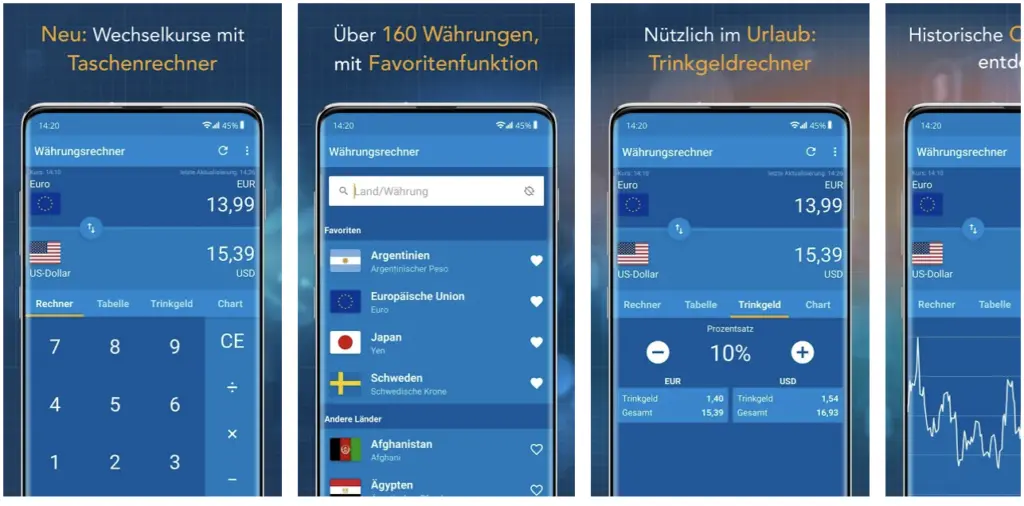 What you can always use when traveling to faraway countries is a currency converter like the one from Finanzen100. The app also offers an offline mode. In total, the calculator can serve you with 160 different currencies. If you're going to a restaurant abroad, the tip calculator is also very handy. The rates are updated in real-time, so you always have the latest information.
21. Komoot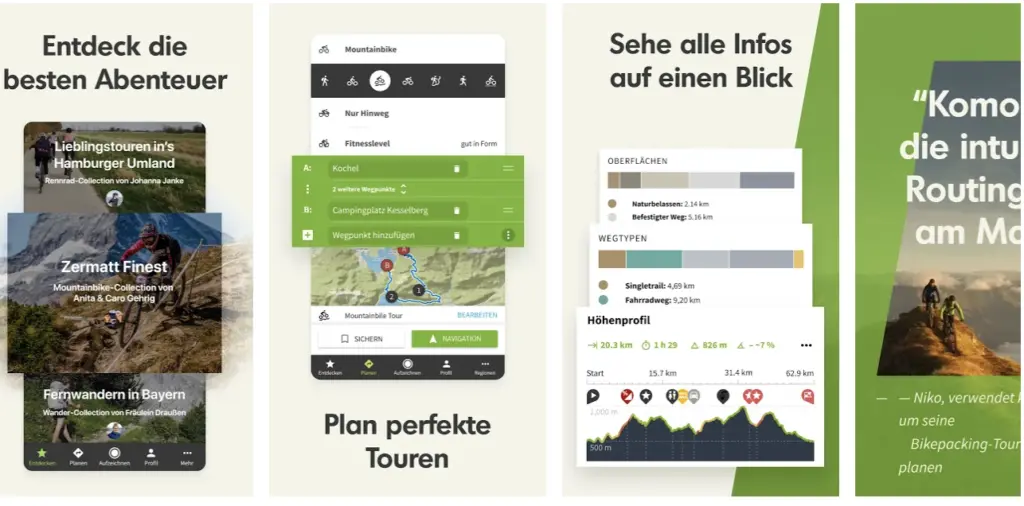 An app for mountain bikers and hikers is Komoot. It is ideal for finding out about possible tours you can do hiking, biking or mountain biking. You can choose the level of difficulty that suits you. Using a search filter, you can also find out the type of trail as well as altitude and distance. The voice navigation is ideal, so you don't have to constantly look at your smartphone. You can also download the maps you want. This is very useful if you ever have poor reception. The tours that you make, you can record including photos.
22. Simple Camping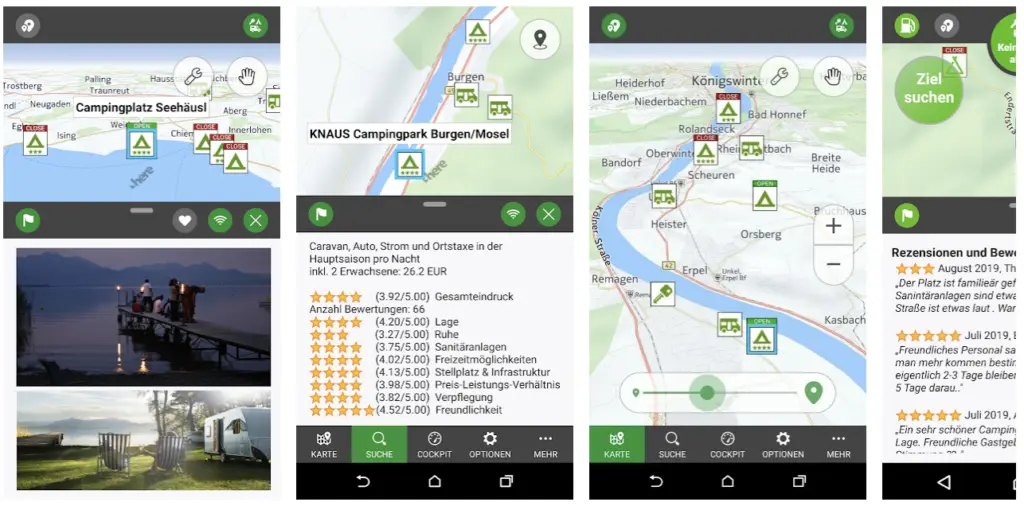 A really important app for camping lovers is Einfach-Camping. It is a great help when you are looking for the right campsite for you. The recommendations you'll see are from campers. There are no automatic updates, but if you like a place, you can check the prices on the campsite website. For some, prices vary by season anyway.
Apps to pass the time
To make sure you don't get bored while traveling, I've also listed my favorite apps to pass the time. Many of them can also be used offline. The good thing is that you don't need an internet connection.
23. Kindle
As an avid reader, I highly recommend the Kindle app. If you own a Kindle eReader, the app automatically displays your books after you log in. So you can easily read them on your smartphone. You have to pay for the books themselves, but you can borrow some of them for free. As a rule, however, books for the eReader cost less than those in paper form. Once a book is in the app, you can always pick up where you left off offline.
24. Netflix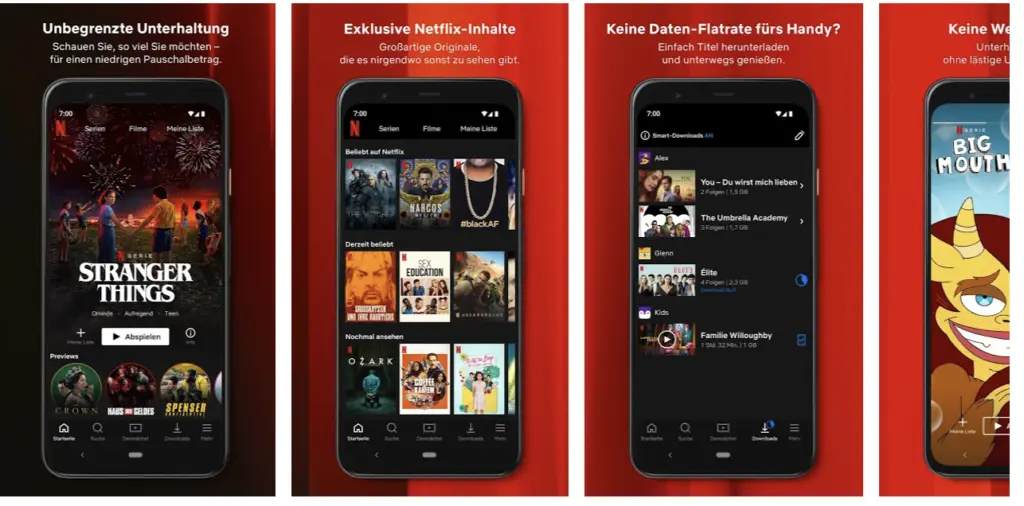 Who doesn't know about this popular streaming provider? If you have a Netflix membership, you should also download the app. It gives you the opportunity to download a variety of series and movies to your smartphone. That way, you can watch them later. This is a great feature – especially when you're traveling. You can see which movies and series are available for download by looking at the corresponding icon.
25. Spotify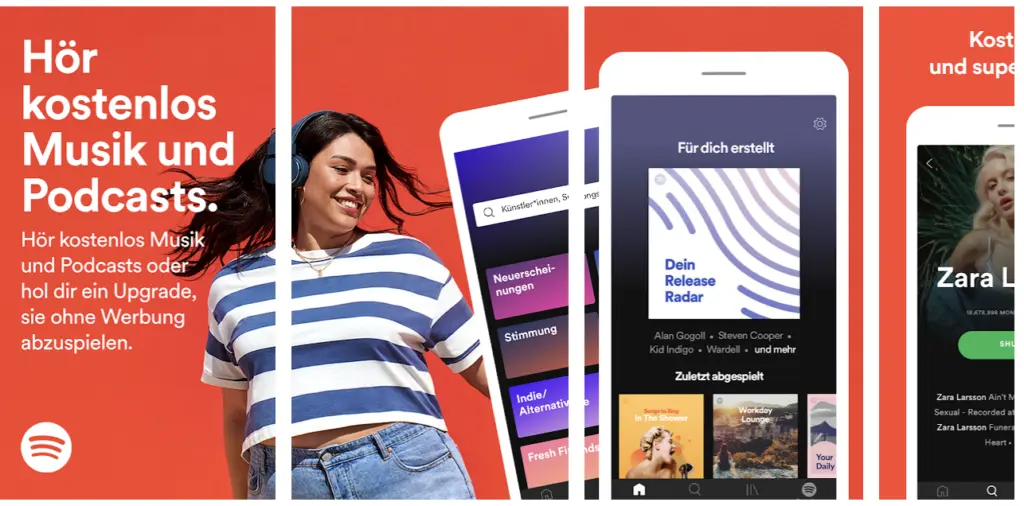 Spotify lets you stream music and podcasts. If you have the paid version of the app, you can also download tracks. Being able to access music anytime and anywhere is definitely very convenient. When you're on the go, podcasts, for example, can also be very exciting. In terms of topics, it can be said that there really is something for everyone. Regardless of whether you opt for the free or paid variant – with Spotify, there is something interesting for your ears.
26 Duolingo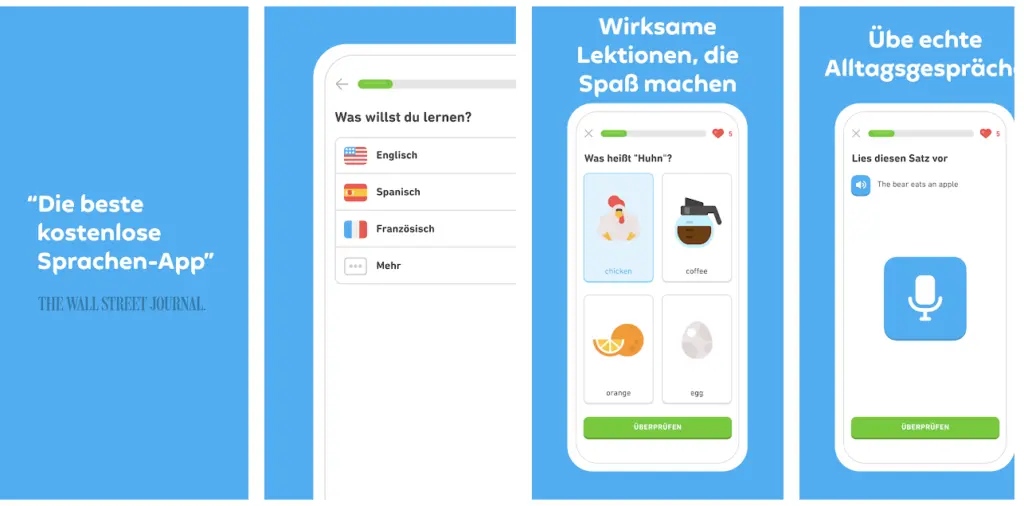 The Duolingo app is a language course. So it is not only a good pastime, but also educational. Nevertheless, you learn new languages with it in a playful way. Language acquisition is further facilitated by the fact that you can also listen to sentences being pronounced. How about learning some phrases in the language of your target country right away? Duolingo is great for this.
27. Audible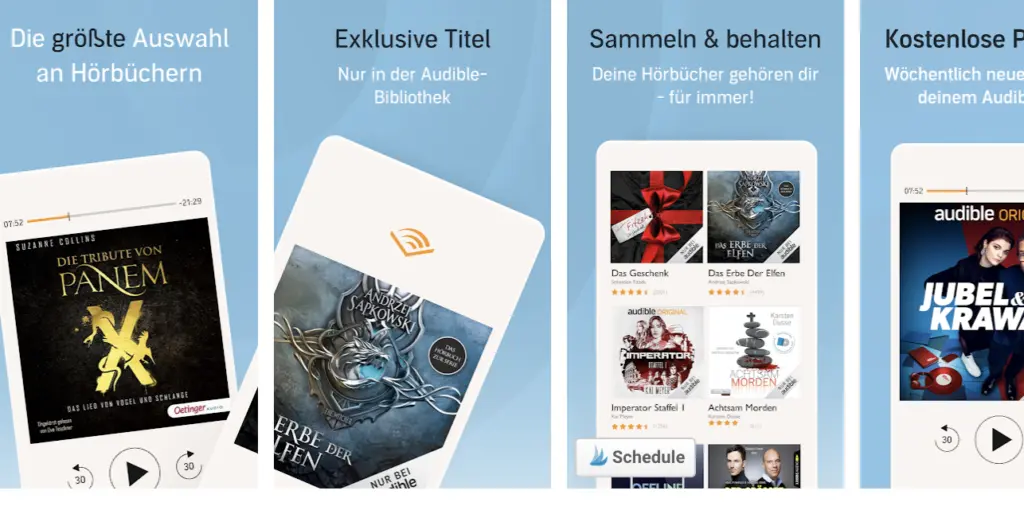 Audible is an app that lets you listen to audiobooks and podcasts. Especially when traveling, this is an entertaining activity. An offline library is also available here. You can even have Audible read books to you from your Kindle. The voices of excellent speakers will captivate you. Downloading the app is free, and you can then try the service for free for a month. After that, you'll have to pay for it. However, a subscription makes sense in any case if you listen to a lot of audiobooks and can be canceled at any time.
28. Instagram
The app Instagram is probably known to every young traveler. You can share your best, most beautiful or funniest videos, photos or reels with your followers. On the one hand, the people at home are informed about your trip, on the other hand, you collect beautiful memories. In between, it's also fun to scroll through your feed and see what others are up to.
29. Lightroom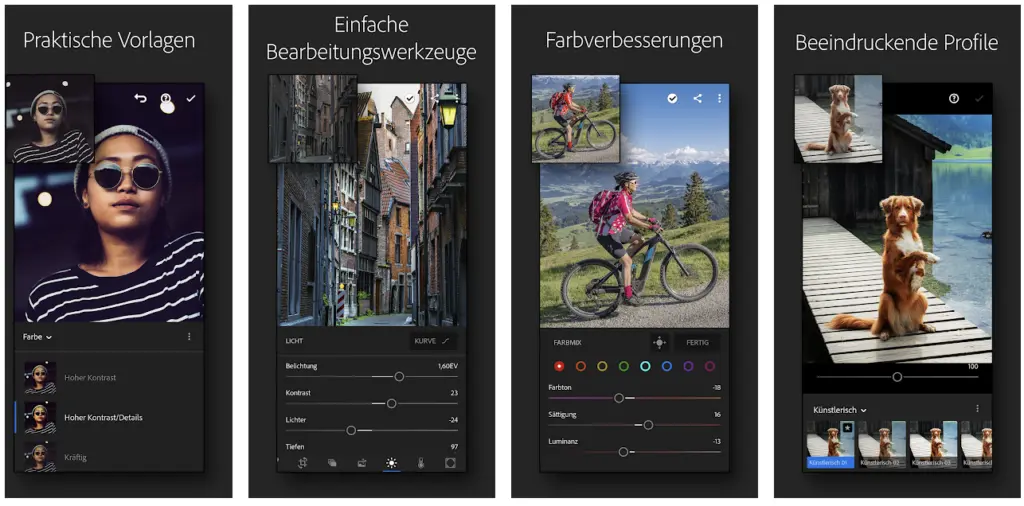 Lightroom is a free app for image editing. There is also a paid version that gives you even more features. In principle, however, the free app is perfectly adequate for simple photo editing. It's very easy to use once you get to grips with it a bit. If you use presets, you can edit your photo with a tap on the screen. You can import images from your gallery into the app, and in turn export the finished copies there.
30. Facebook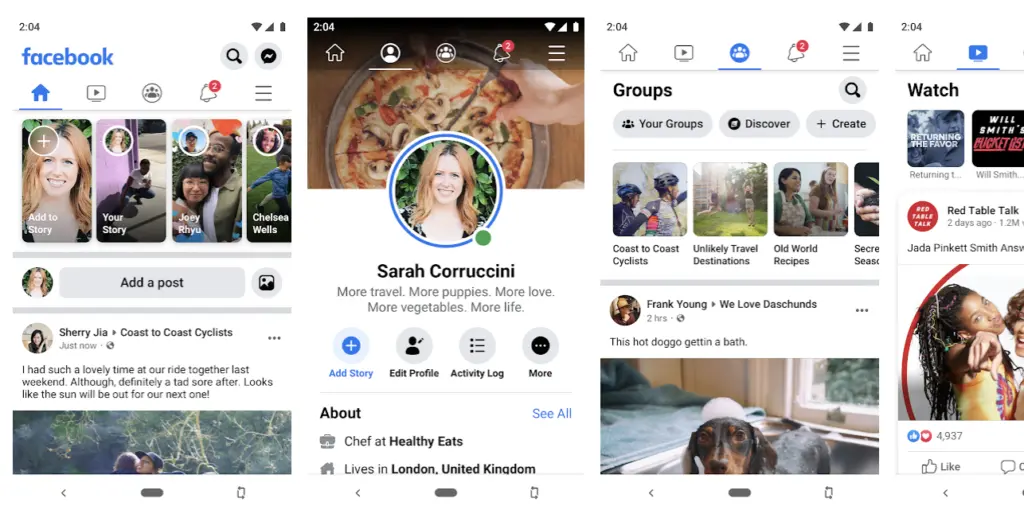 Everyone is probably familiar with Facebook, too. You are always informed about what your friends are doing. You can even share photos or status updates with other people in the app. But Facebook can also be used to communicate with your loved ones. Messenger and video calls are available for this purpose. The app also reminds you of your friends' birthdays and shows you memories from past years. Facebook can also be used to find events that are taking place at your vacation spot.
Just install and go
Did you find what you were looking for? All you have to do is install your favorites and you're ready to go. Conveniently, some data can be downloaded, so you can access it anytime and anywhere. This is especially handy for maps, series, and audiobooks when you don't have an Internet connection. Other apps, however, only work online.
This list of the most valuable apps for traveling is not exhaustive and can certainly be extended. In any case, I hope you enjoy browsing through the list and have a good trip!