You're probably traveling in New York City right now and looking for a good coffee shop.
Maybe you are just planning your trip and are already looking for restaurants and cafes for your gastronomic experience.
Here are the 10 best coffee shops in NYC to take a breather from your busy city life with great coffee.
NYC is a true coffee capital and coffee seems to be the lifeblood of every New Yorker.
You constantly meet people with a coffee mug so it is not surprising that small and fancy coffee shops have established themselves everywhere here besides the big chains like Starbucks.
Birch Coffee
Birch Coffee is a local chain that operates a coffee roastery in Long Island City. The coffee shops are mostly scattered throughout Manhattan.
Birch Coffee offers great coffee and delicious pastries to go with it. You'll find the perfect atmosphere at Birch to start the day a little more quietly or to bridge the time between an event with a small coffee break.
My recommendation here is definitely the Iced Coffee!
Hi-Collar
This Japanese café offers a very special coffee. Here the coffee is prepared with a siphon.
The coffee preparation is interesting to watch, but also the coffee is an aromatic masterpiece. Those who are less keen on experimenting are also served a Pour-Over, AeroPress or Iced Coffee.
Besides coffee, there are also delicious snacks like sandwiches or rice omelets.
Note: Coffee is only available from 11 am until around 4 pm.
By the way, the café becomes a bar in the evening from 6 p.m. and then there are cocktails with sake or beer from the Far East instead of coffee.
My recommendation here for anyone who hasn't tried it yet is definitely the coffee from the glass flask.
Abraço
One of my absolute favorites in the list that I'm deliberately not numbering is definitely Abraço.
This little roastery has been operating a small espresso bar in the East Village since 2007, taking cues from Spanish and Italian bars. The café itself is tiny, but it's worth stopping by here, because in addition to coffee, you'll find the most delicious creations of cakes right here.
Whether with cranberries, oranges, blueberries, apples, or olive oil. There are always seasonal treats to try.
Stumptown Coffee Roasters
This coffee roaster hails from Portland, Oregon, and operates a few coffee shops scattered across the U.S. as a small chain. The roasters made it from the Pacific to the East Coast metropolis in 2009. They currently operate two cafés in NYC.
Whether it's espresso, French press, or cold brew, you'll find the right coffee for every taste.
The location of the Ace Hotel, which was built around the turn of the millennium, is particularly beautiful. The café itself has a somewhat darker atmosphere and a direct connection to the lobby.
Here it quickly gets crowded and a bit restless in the hustle and bustle of a colorful mix of people. Whether hipsters, tourists, business people or company founders.
Everyone needs the right cup of coffee.
If it gets too crowded in the café, the comfortable leather chairs in the lobby invite you to enjoy your coffee there.
Toby's Estate Coffee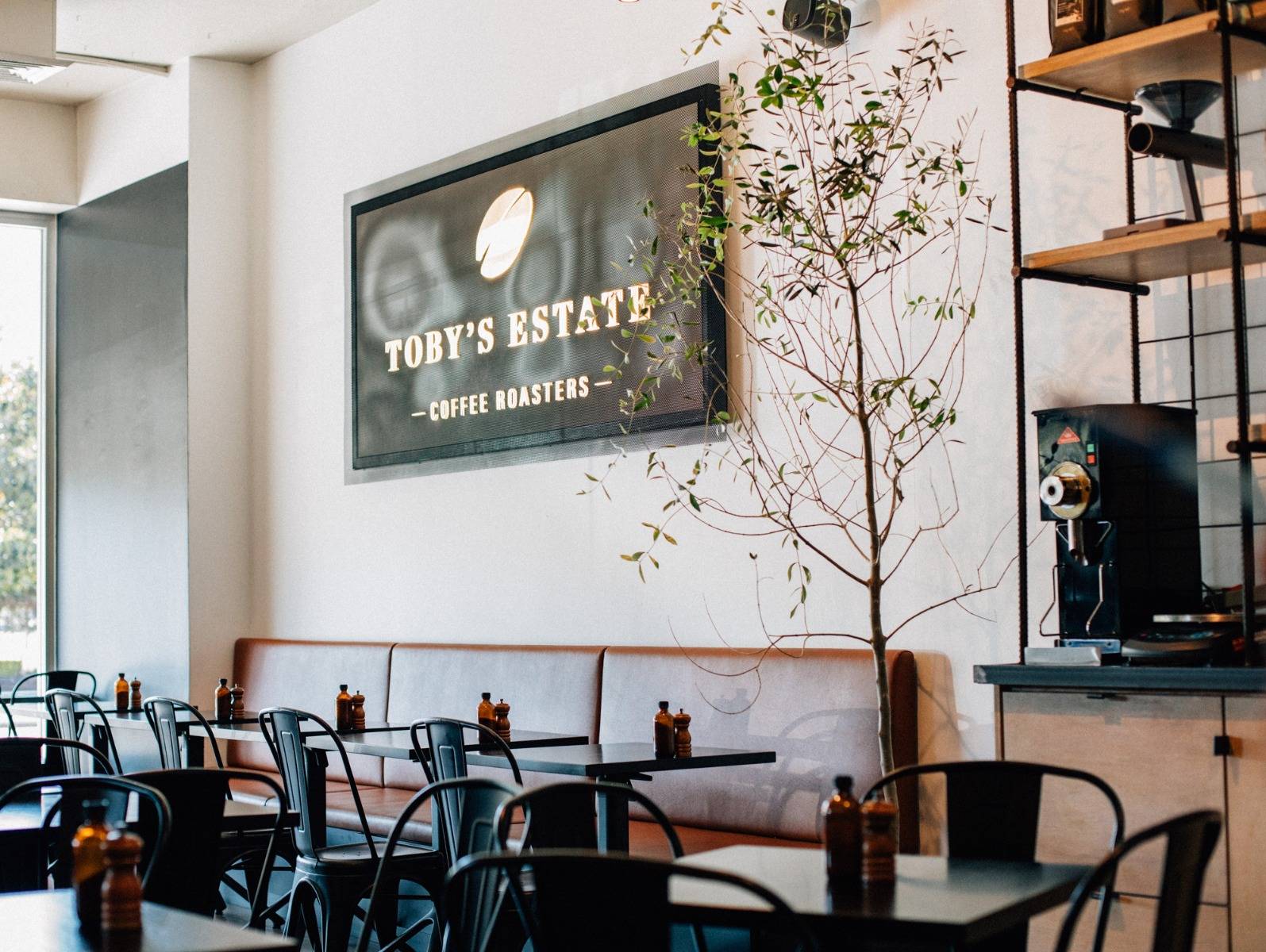 Toby's Estate Coffee has four locations in NYC, but it's the café on 5th Avenue that offers a good contrast to the cafés already featured.
The espresso bar presents itself in white as much friendlier and hipper than many typical coffee shops. Even the La Marzocco Strada espresso machine was given a matte white finish.
In addition, it is perfectly located to take a coffee break after an extensive shopping tour on 5th Avenue. The espresso bar is located in the Club Monaco store.
Here you can enjoy your coffee and either continue shopping at Club Monaco or look for suitable reading material at The Strand Bookstore (also in the same store).
If you're hungry, try the rosemary roasted chicken sandwich.
By the way, it's worth taking a look upstairs, as the ceiling is artfully covered with pressed tin panels.
If you're looking for a real café to linger in for a long time, you'll find a more spacious location in Brooklyn, which is also home to the in-house coffee roastery. There are large tables and plenty of space here.
Blue Bottle Coffee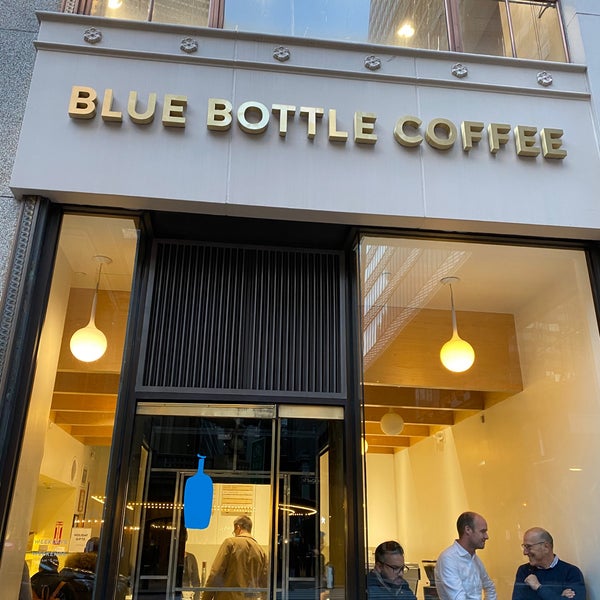 San Francisco's famous Blue Bottle Coffee is another roastery from the West Coast that has set up shop in the Big Apple.
In addition to the first location in Williamsburg in 2010, there are now a dozen more options to enjoy the fresh roasts scattered throughout NYC.
I'd recommend visiting Blue Bottle on a tour of historic Williamsburg.
Intelligentsia Coffee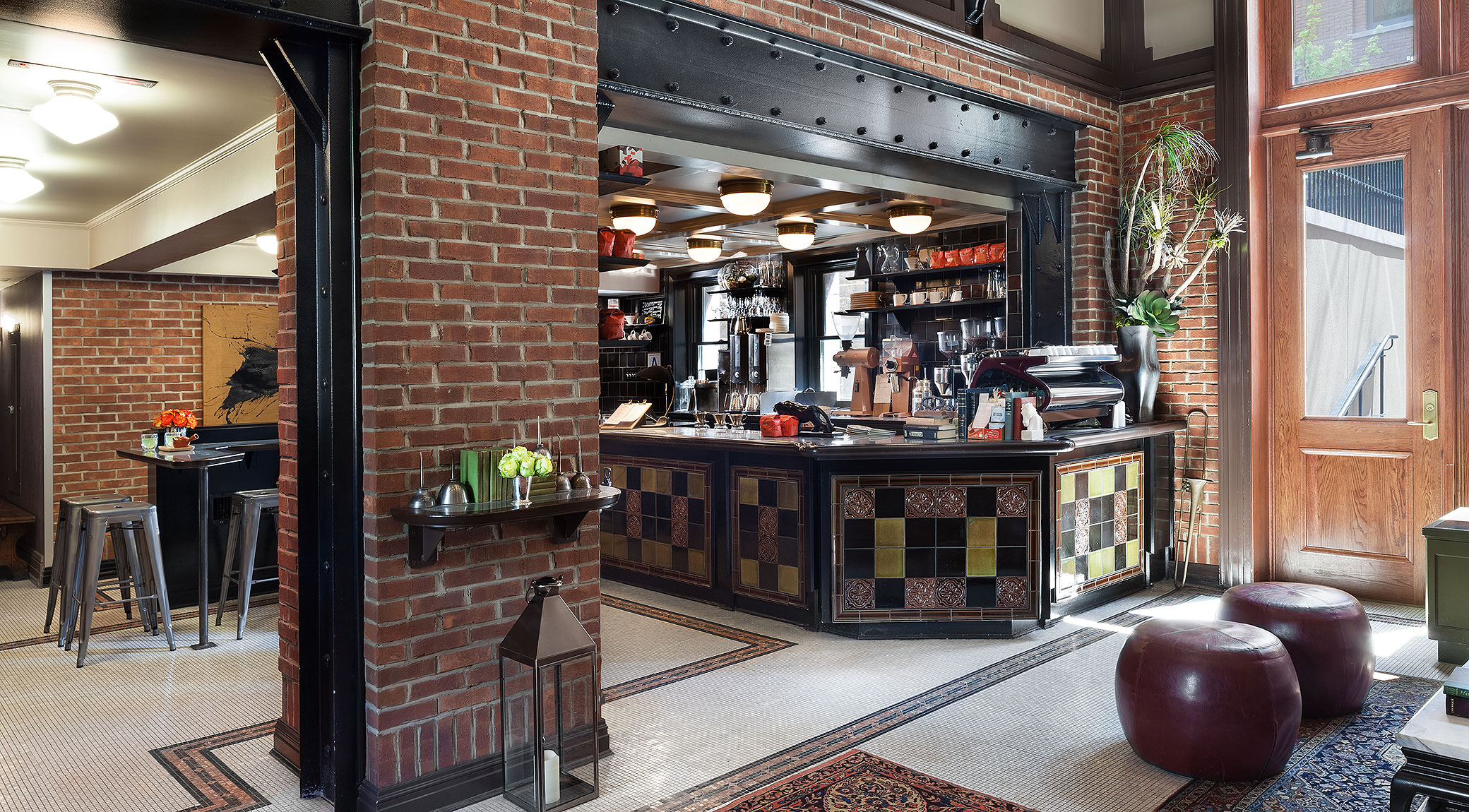 The iconic chain originated in Chicago and saw the light of day there in 1995.
In New York, Intelligentsia has opened a coffee shop in a cozy corner of the High Line Hotel.
This makes the Intelligentsia outpost the perfect place to combine it with a stroll through High Line Park.
Conveniently, a staircase to the park is just a short walk away on 20th Street.
In addition to the stylish coffee bar, there is also a coffee truck in the outdoor area, as well as numerous seating options.
El Rey
El Rey is located in the Lower East Side about a 5-minute walk from the Williamsburg Bridge. What first started as just a coffee bar with sweet baked goods is now a popular restaurant at lunchtime.
Anyone who lands here should definitely eat something delicious. Whether it's avocado toast for a snack or the Diablo Chicken Bowl for something a little more substantial. Despite the clear menu, you can find enough goodies.
My absolute recommendation for coffee enjoyment is the Iced Mexican Mocha (strong coffee with chili flakes, cinnamon, and chocolate plus some mint).
Bluestone Lane Coffee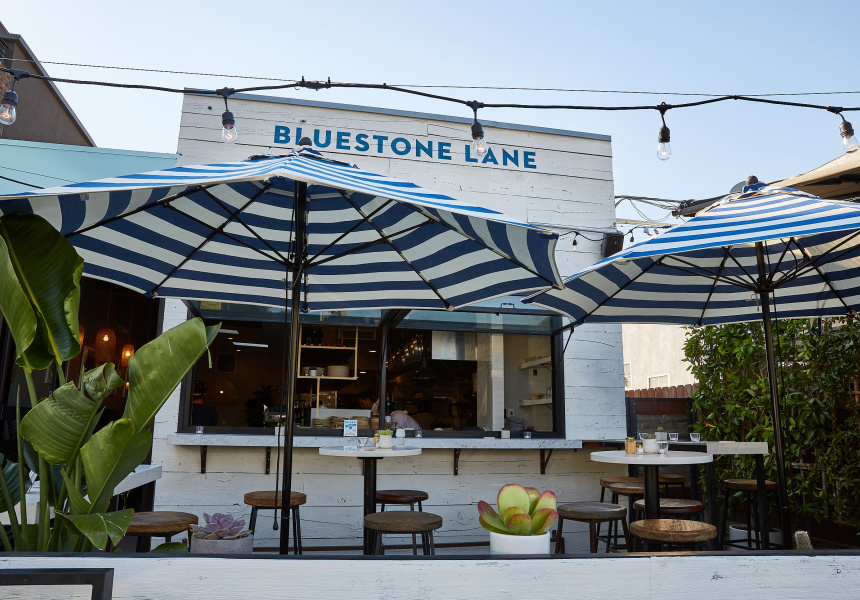 Bluestone Lane is bringing Australian coffee culture to NYC. Yes in Australia there is indeed such a thing as a bean boom.
One Australian coffee specialty, for example, is the Flat White, which is made from espresso and prepared with milk foam. In principle, it's like a caffé latte, except that the milk is frothed more easily.
The selection of coffee specialties and different preparation methods is almost endless at Bluestone Lane.
Bluestone Lane is a great place to go for freshly brewed quality coffee. On top of that, there's "latte art," the art by the milk frother.
Devoción
I've saved the best for last. My favorite coffee shop, which I discovered rather by accident in Brooklyn, is Devoción.
The Colombian coffee roaster's café opened in December 2014 and offers arguably one of the freshest coffees around. The coffee beans arrive in New York raw (green) by FedEx just 10 days after harvest. Here they are then roasted and processed into delicious coffee specialties in the in-house café.
The café looks like an oasis with its stone walls, many green plants, and comfortable leather sofas, and has its very own flair.
Worth a visit in any case!
I hope you enjoyed my list of the top 10 coffee shops in NYC and followed one of my recommendations.
If you have a hot tip or recommendation, let me and the other readers know in the comments!