Microsoft has officially unveiled its latest Windows 11 tablet, the Surface Pro 9. As usual, there are technical improvements and more new colors. For the first time ever, Microsoft mixes two different platforms under one name. You should pay attention to that, especially if you want to work on the go.
Surface Pro 9 with Intel or Qualcomm processor
Microsoft has introduced its latest tablet generation with the Surface Pro 9. It is still a 2-in-1 tablet that can optionally be equipped with a keyboard and a pen. Compared to the Surface Pro 8 (review), the performance has been increased by about 50 percent and you can connect multiple 4K displays via Thunderbolt 4. There are also new colors that bring a bit more freshness. By the way, the 3.5 mm jack has been removed from the new generation. You can now only connect headphones or speakers via USB C or wirelessly.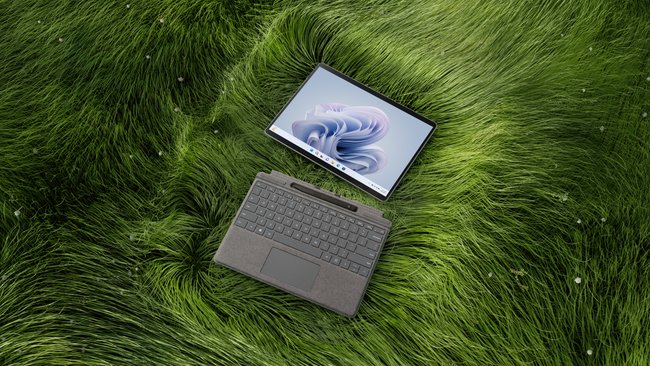 The prices for the Surface Pro 9 start at $1,299 (look at Microsoft). If you want to buy a Surface Pro 9, you have to look carefully at what you choose. For the first time, the Surface Pro 9 is available with Intel and Qualcomm processors. The Intel versions only have a WLAN module, while the Qualcomm models are only 5G variants.
Even though Microsoft makes great efforts to ensure that Windows 11 supports everything on ARM processors, there can still be limitations in certain situations. Apple is already much further ahead with the M chips. With prices starting at $1,549, the versions of the Surface Pro 9 with Qualcomm processor and 5G modem are also considerably more expensive, even though they only have half as much storage space.
You can see what the Surface Pro 9 has to offer in the video:
Surface Laptop 5, Studio 2+ and new accessories
In addition to the Surface Pro 9, Microsoft also unveiled an upgraded Surface Laptop 5 and Surface Studio 2+. The Surface Laptop 5 gets new Intel processors and thus more power, a new color and is said to manage a battery life of up to 17 hours. The Surface 2+ also gets more power and the RTX 3060 from Nvidia has a graphics card. Also new, for example, is the Microsoft Audio Dock, which is a meeting speaker but can also charge Surface devices and has USB ports.