Priceline, or blind booking in general … almost everyone has heard of it by now. But hardly anyone who is not more closely involved with it, really knows what it is and how it works. Basic principle: You choose a city or a district, then select the star category of the hotel, and Priceline then later assigns you a hotel that – if everything runs optimally – corresponds to your wishes.
"Blind booking" is the name of this new type of hotel booking, why is self-explanatory. You do not know one hundred percent in advance in which hotel you will end up.
Advantage: As a rule, the booked hotel is later better than expected and one pays for a 4* resort sometimes gladly only as much, as otherwise for a Motel 6. Small disadvantage: The booking is final and can not be canceled, in addition, the credit card is charged immediately.
That's why I usually book when I'm on vacation when I know where I'm going to be for the next few days. Or the overnight stays in the vicinity of the start/destination airport because these are usually simply fixed by the date.
To give you a little insight into the topic of blind booking, I have written a small guide for Priceline. Especially for trips to the USA, it is always a good alternative to the normal hotel bookings via Booking.com, which by the way also belongs to the Priceline Group.
How does Priceline work? HowTo, Procedure & Explanations
Contrary to popular belief, Priceline's internet platform does not only work in America, of course but worldwide.
Instructions for a Priceline booking
I would like to show you exactly how to proceed with Priceline using a booking example. In principle, everything is very simple.
You call the website of Priceline, select the category hotels, and then enter the name of the city, the arrival and departure dates, and the number of rooms. Our example here is a booking for a room in Phoenix on April 4.
With a click on the Search Now button, the search continues …
After the click, Priceline starts searching for a room and lists all available hotels. You will now first look at the offers on the page, which will give you a feeling for the current prices. At the top right of the page is a window called "Name Your Own Price". There you click the green GO button.
The selection of the district
A page appears on which the city of your wishes is divided into different districts (Step 1). Now you can choose where you would like to live and click on one of the suggested districts. It is – as said – first ONLY about the district.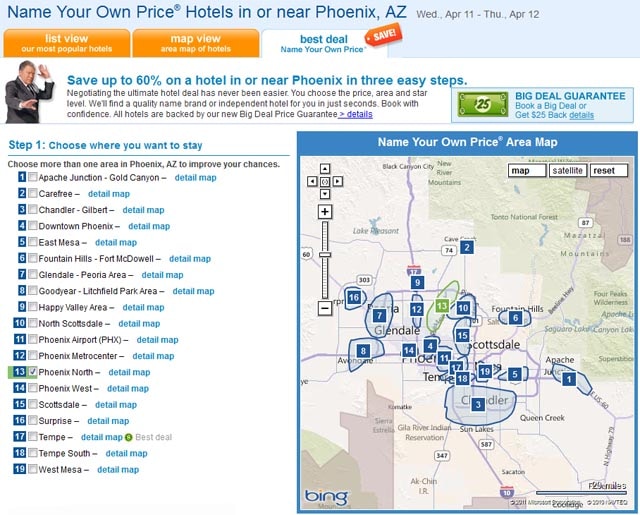 Selecting the star category
Next comes step 2, where you have to decide on your preferred star category. As mentioned above, you cannot select a specific hotel. This is also logical, otherwise it would not be a "blind booking".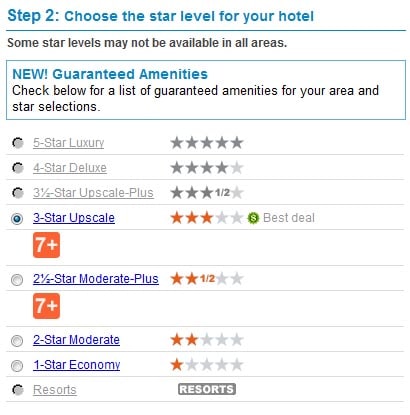 Send Price Suggestion
In the free field at Name Your Own Price you now enter the amount you want to pay. In our example here we try it with 20 $ (Step 3)
Of course, the amount is too low, so a red bar appears, which says: Based on recent data, your price has almost no chance of being accepted. Now you increase the amount in steps of 5 or 10. You do this until the bar disappears.
Then you decrease it in steps of 1 until it appears again. This way you can narrow down the price range relatively quickly, where you could possibly get accepted for a room.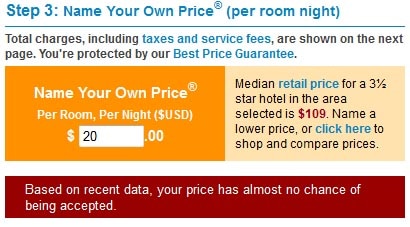 You don't necessarily have to wait until the bar disappears. You can also stop when it says: Based on recent data, your price has only a small chance of being accepted, which is already a bit better than trying with 20$.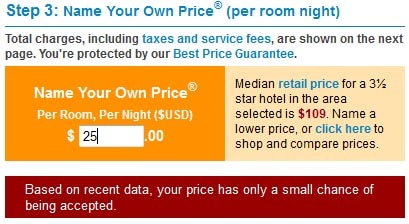 Since the chance of winning the bid is also rather small in this case, it is advisable to bid a little bit more than the sum where exactly the brown bar disappears. Here a little tact is required so that one does not bid more than absolutely necessary.
I enter my name or – if I already have a Priceline account – log into the Priceline homepage. The latter is definitely easier in the long run because you don't have to enter your data manually every time.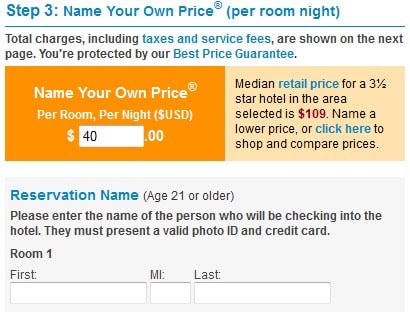 If you are not logged in, this page will appear next, where you have to enter your bid again.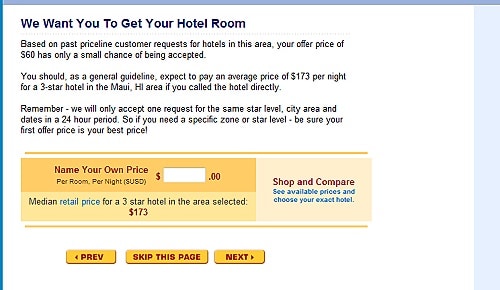 Overview and possibility of travel cancellation insurance
An overview of your wishes appears, as well as the offered price plus taxes and fees. If you want, you can buy a Trip Cancellation/Interruption Insurance for only 5 US$ in the box below. Without this insurance, you will NOT be able to cancel your trip if your bid is successful!
Important: Cancellation insurance is ONLY valid in case of valid reasons, such as illness, loss of job, death, etc. It is NOT cancellation insurance that you can use just because you suddenly changed your mind and would rather stay at another hotel or it is not on your itinerary anymore. You are not buying a normal cancellation option.
If everything is according to your wishes, you type in your initials a little further down. For once, there is no separate image for this, you can do it that way.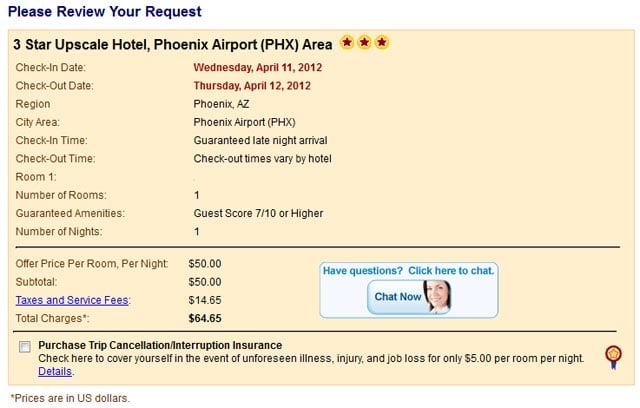 Then enter your name and address. This must be in the USA but does NOT have to be real. In the example below my name is Max Mustermann – how else. I have a German address and phone number and as state Delaware, abbreviation DE – like Germany.
Important: The eMail address MUST be correct, because the confirmation will be sent there if your bid is successful!
Then you enter your credit card number and expiration date, as well as the name on which the card is issued. The security code is the last 3 numbers on the back of your credit card.
As an alternative to this entry, you can also register once at Priceline and leave your contact details there. Then you don't have to enter everything by hand every time you place a bid.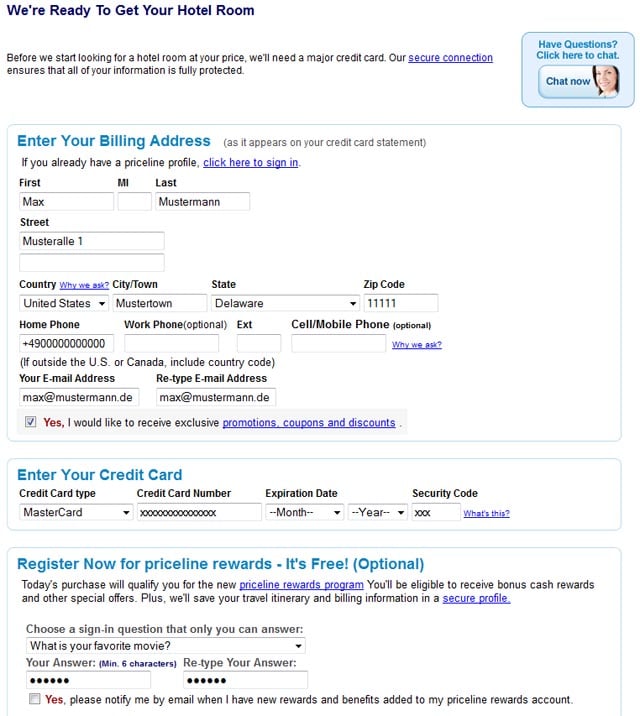 Waiting for the award
If you then click the by my hotel room now button, it will take a while until you are either assigned a room or not, because your suggested price was too low.

Priceline will now select a room for you. In the meantime, you will only see this graphic …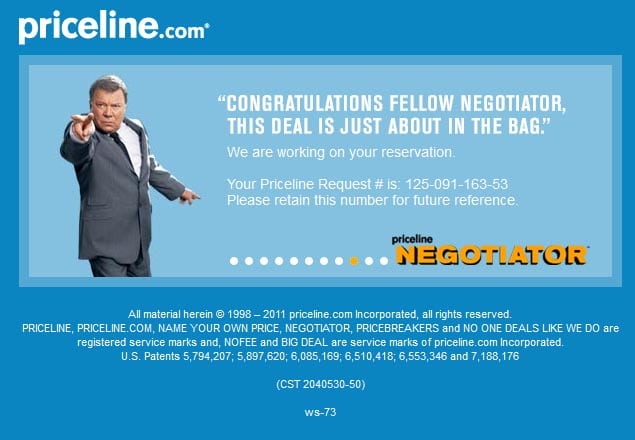 Successful bid or not – what happens next?
If the graphic shown above disappears again, there are two possibilities. Either you have won the bid and booked a hotel. Or your bid was too low. If that was the case, the same game starts all over again. Hook at the thing: With a further price suggestion of you you MUST indicate either another city district and/or lower the star level. You cannot tick the exact same selection criteria again.
Important: The same level and the same district will be accepted only once per session. After that you have to wait 24 hours until you can place a bid again with the same selection criteria.
Priceline sends you an email with the rejection and possibly writes how much more you would have to bid to get the award. I have in such a case on a booking increased the amount by US$6 and had a room.
It can happen that Priceline writes that it would be possible to get a hotel if you bid 20 US$ more. In this case, do NOT do that !!! Offer instead at most 5 US$ more, even then you almost always get the supplement.
If no increase is offered, you will get a mail after some time asking you to try again. If you have a tight time frame, so you are already looking for something for tomorrow, close your browser and try immediately with a higher amount.
Read more: Skyscanner Review 2022
Your bid was successful
If your price is accepted, you will see a summary with the message Your Hotel Deal is in the bag. Your deal is more or less bagged! In this particular case below I got the 3* Hyatt Place in Phoenix for 56 US$. The price on the homepage for this period would have been 209 US$.
In addition to the US$56, there are taxes and fees, but these are usually relatively manageable.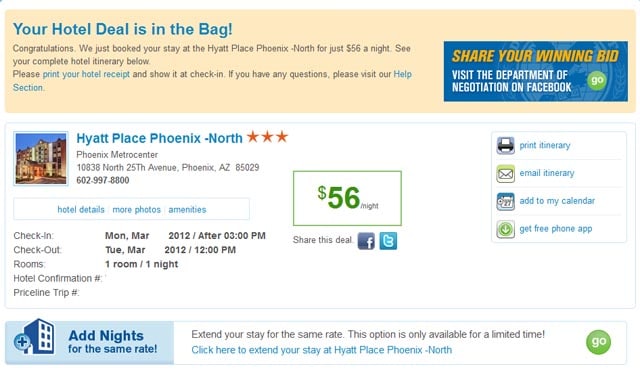 On this overview page, there are now some pictures of the hotel and you can find useful information. For example, the address includes directions, whether parking is free or breakfast is included, free WiFi is available, etc.
At the top right, you now click on your desired confirmation type. You have the choice between a printout or by email. If you have installed the Priceline app on your smartphone, the booking is also stored there.
When you check in later, you only need to show your passport and credit card, as the booking is stored under your name in the hotel's system.
Important: A transfer of the booked hotel to another person, i.e. a change of name, is NOT possible. Neither is a cancellation. Unless you have taken out the above-mentioned cancellation insurance for 5 US$ at the beginning and have valid reasons for it. Otherwise, the money is gone in case of a no-show.
Extend your stay
If you look at which hotel you have been assigned to, like it, and would like to stay longer, you can almost always press the "Add Nights for the same rate!" button and offer more nights for the same hotel – usually for the identical price.
This extension is also possible from the hotel. So it is quite possible that you will be offered to extend your stay by one more night.
You will then receive an email that says the following:
"If you have already checked into your hotel and have added nights to your stay, please go to the front desk to check in to your new reservation for the additional nights."
What else can happen to you: Priceline asks you to wait 15 minutes. They are still working on your request. Happened to me 2x so far – and I always got a room. Even in hotels that were fully booked according to the information at the reception.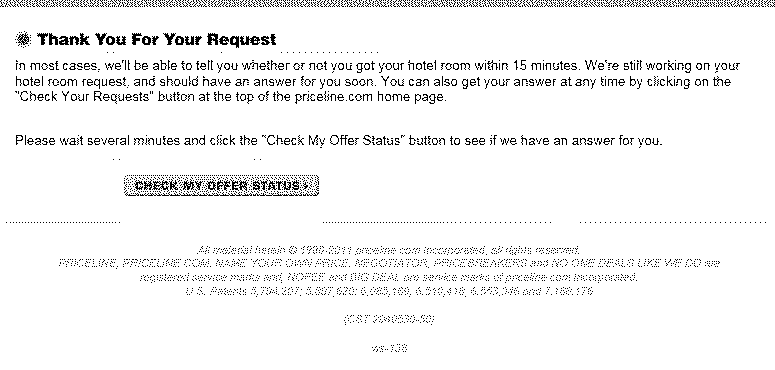 Conclusion Priceline / Blind Booking
Especially in bigger cities, it is worth booking with Priceline. You get the room cheaper and save the search for a hotel. In advance, however, you should inquire about possible parking fees for the rental car. These relativize under circumstances the favorable hotel price again a little.
In the country or in small villages it is not necessary in my opinion, there you always get a place in a small motel. In places like Mexican Hat, Hanksville, or Escalante, for example, Priceline doesn't offer any rooms at all, because there are only a few places to stay …
Important: Again and again I am contacted and asked how it behaves with bookings with more than 2 people. Do I have the right to two double beds, for example, or an extra bed if I travel with a small child? The simple answer is: NO! You don't. If you successfully bid for a room, you have in fact ONLY booked one room. Everything else must then be clarified at check-in on site.
We have never had any problems getting a room according to our wishes. "As requested" means for us: Two double beds, when we are traveling with four people in the USA. The beds are usually big enough for two people to sleep in.
So you can put two kids on one bed and let them sleep, while you share the other bed with your partner. Even the wish for another sofa bed has been fulfilled without any problems.
If you still don't dare to use Priceline, you should try Hotelscombined. Here you can always find the currently cheapest official hotel prices. The site compares most common price comparison sites, such as dhr.com, booking.com, etc.
Priceline on the iPhone or Android smartphones
Meanwhile, Priceline is also available on iPhone and Android devices as an app (iOS/Android). The process is similarly simple as on a desktop PC or from a laptop. Some functions are even more practical on the app than on the actual website in my opinion. Using the following example booking for a hotel in Tucson, I would like to briefly clarify the process.
After Capt. Kirk has broken the start screen when opening the app, you either enter the city of your choice (in this case it is Tucson) in the field provided for this purpose or select one from the field below among some already given cities in the USA.
On the next screen, you will see an overview of the current "normal" hotel prices in your city. You now have the option to enter your desired date above (outlined in red) and see how the prices change. Again, this is only to get a feeling for HOW the hotel prices are on your desired date.
Next, it gets interesting. You click on the Negotiate fist at the bottom left and it takes you one page further. At this point, the app is clearly ahead of the normal website.
It shows you the current successful bids for the respective star categories and in the different districts. So you already know pretty much WHAT you have to bid in order to possibly win the bid!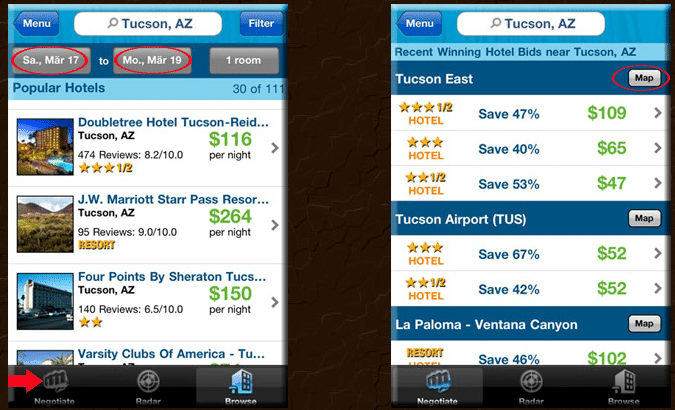 Now that you know roughly what you are looking at in terms of price, click on the star category in the district of your choice and you will be taken to the next page.
Here you have the following options: You can enter your travel date again, look at the district in which the hotels are located on the map icon at the top right, AND – most importantly – change the price with the slider at the bottom. The default is always the amount at which a successful bid was last accepted!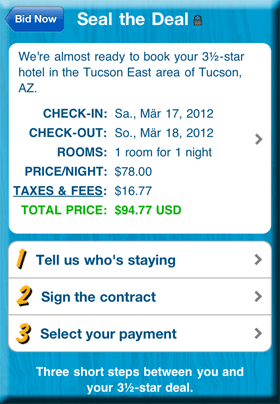 I try it in the case with 78 US$ (the 82 US$ above on the picture have been only to play around) instead of the successful 109 US$ and enter on the next page my email address and the password (it needs here no extra photo). On the following Seal-the-Deal page the whole thing is then bagged and the bid is given.
Three more steps are needed.
Step 1: Tell us who's staying. Here you only have to enter your first and last name.
Step 2: The contract MUST be scrolled down by you, in the designated field below you then enter your initials … in my case that would be AH.
Step 3: The credit card details must be entered.
It has proven to be advantageous for the app if you then DOCH also registered with Priceline or created an account. This way, you can click through these three steps quite quickly.
After all three steps have been successfully completed, a green BID NOW button appears in the following window. Press this button – the rest is now out of your hands.
Either Capt. Kirk appears again and tells you that your bid was not successful. Or you have won the bid and you will get an overview similar to the one on your desktop PC if you have been successful with your bid. In this case, you should check your e-mails, there you will find the confirmation of the successful bid including options to print it out. That's it …
Helpers for Priceline
In order to inform yourself in advance on the conventional Priceline site, HOW the prices for the individual hotels in the different locations are, there is also a possibility on the Internet. Namely on the page betterbidding.com.
The page is in English, but you should be able to do that anyway if you're vacationing in America. It lists who successfully bid how much for which hotel and when.
Also very helpful: You can find an overview of which hotels in which star category and in which area could be assigned by Priceline. In this way, you can already narrow down a little in advance, in which hotel you would like to come.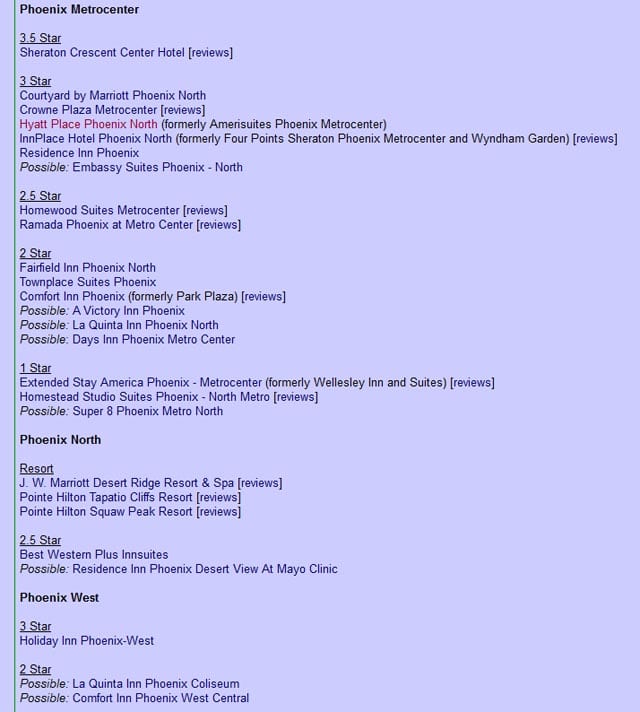 A very good alternative to the forums is thebiddingtraveller.com. This is a kind of bidding agent for Priceline and you also get information about bids already placed – regardless of whether they were successful or not.
Note: The one or other screenshot looks a little bit changed on the Priceline homepage. In the near future, I will add an updated version of the screenshots. The actual booking process should still be understandable in the meantime.
If you don't like Priceline and prefer to book your accommodation the conventional way, I have written the article Online Hotels buchen, aber RICHTIG with lots of tips and information on how to book hotels at the best price.
Alternatives to Priceline
In the meantime, there are also other portals for blind booking on the Internet. WowTrip (<- currently not available!), for example, goes in a completely new direction and promises to be able to book complete surprise vacations there.
The procedure is relatively simple. First, you enter your travel dates. This allows the booking price to be influenced – nothing more is known about the trip. Except that the direct flights and a 3-4 star hotel within Europe are included. The minimum stay is always a minimum of two nights.
Blookery also relies on a similar principle. On the website, the process is described as follows:
Choose from 52 cities within Europe your wish list, where you would like to go, and make your search request. Super simple and straightforward.
We search for you for the best flight and hotel in a city from your wish list. And sending you your non-binding offer by e-mail. The destination city remains secret 🙂
Your own countdown page tells you where you are going, shortly after your booking, 7 days before departure, or even later – pure excitement!
So if you want to be completely surprised, maybe even until a few days before departure, this might also be an option for you.
May you also like to find the cheapest flight on Flight Scanner.
And now you, how are your experiences with Priceline?
Have you already made experiences with Blind Booking or especially Priceline? Then leave me a short comment about it, I would be very happy about it.
Read more: Trivago Review 2022