Jim Harbaugh is still serving his suspension for allegedly stealing opponents' play-calling signals. However, that hasn't stopped the Michigan Wolverines head coach from supporting his team. He believes that the Michigan locker room is as strong and together as ever. The Wolverines are coming off a huge win against Maryland and are unbeaten so far this season.
Their next game will be their biggest test yet. The Ohio State Buckeyes have an identical record as that of Michigan and are ranked second in the country. The Wolverines are ranked third. It is going to be one of the biggest games of the college football season. Harbaugh knows that and he spoke about his team in a press conference.
It's like that Ted Lasso show. Belief. What comes out of that is believe. And I'm just so proud, so proud of our team. Despite that noise, our locker room's in one piece. And I like that. For me, locker rooms, lot like my mom's bathing suits. Like to see 'em in one piece.
The quote was a direct reference to the Apple TV+ show 'Ted Lasso' from 2020.
Both the teams are vying for a Big Ten championship berth and this game will be a huge factor in deciding who goes through. Harbaugh will be able to coach if Michigan makes it to that point. His suspension does not include the NCAA playoffs. Meanwhile, the head coach is comfortable with how his team preparing for the big clash.
John Harbaugh said the investigators have nothing against his brother Jim Harbaugh
Jim Harbaugh and the Michigan Wolverines are going through adversity at the moment. However, that hasn't affected the team's on-field performances as the team is still racking Ws amidst Harbaugh's sign-stealing scandal.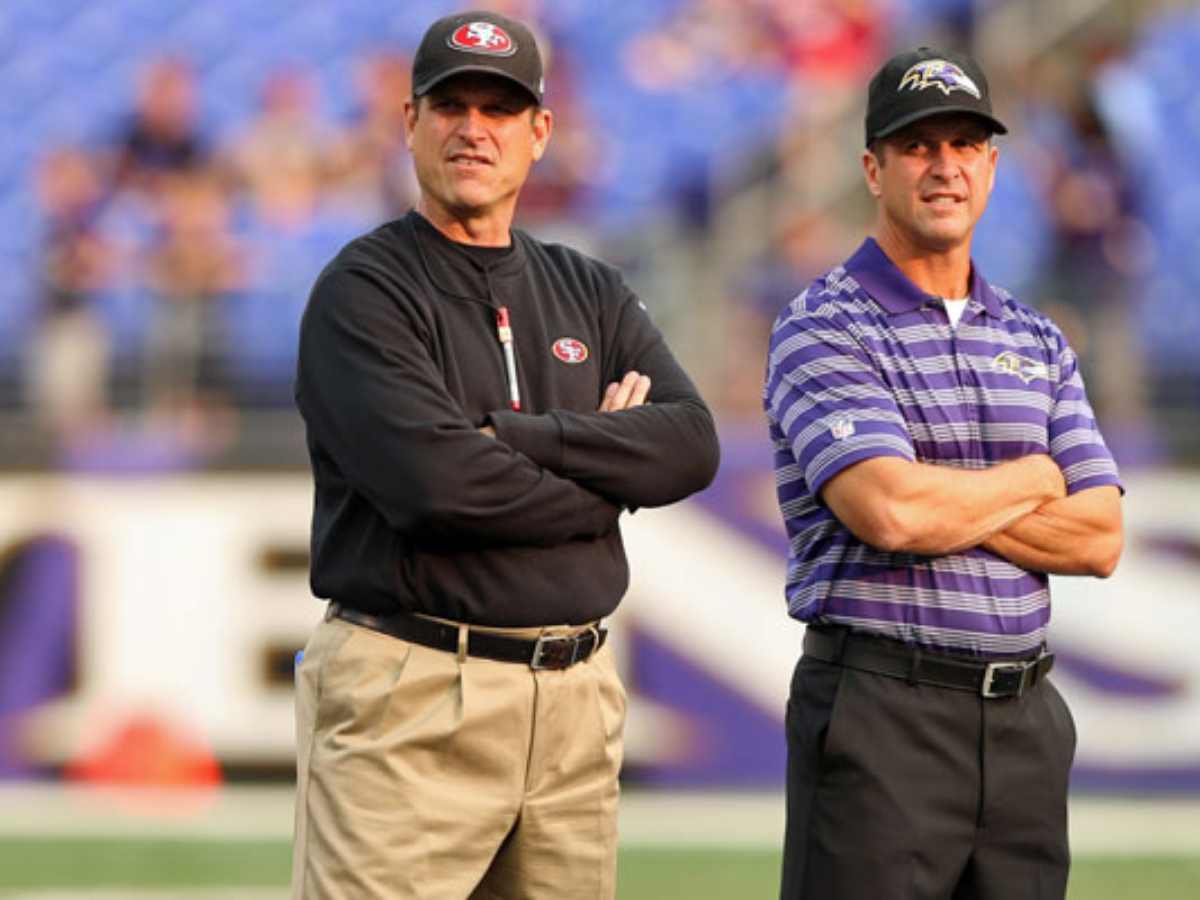 The head coach has been banned from coaching Michigan's final three regular season games. His brother and NFL head coach, John Harbaugh, came to his defense.
I've talked to him quite a bit. I have a lot of opinions on it, obviously. I'm his brother, and I'm proud as heck of him. I'm really impressed with the way he's handled himself through all this. It's been a long run. Everything can be done to his phones, his computers and all that stuff have been looked at. He's come through this thing with flying colors. I don't know what they're trying to get, but they don't have anything of substance.

John Harbaugh to media
The Michigan Wolverines are preparing to play their biggest game of the season against the Ohio State Buckeyes this Saturday. Their head coach is still allowed to be with the team, as he is only banned from coaching the team. They won their 11th game in a row against Maryland last Saturday.