The Miami Dolphins' star wide receiver Tyreek Hill had a tremendous game against the Las Vegas Raiders on Sunday. However, he had an injury scare during the game and went to the locker room for a brief moment in the second quarter. It was a right-hand injury and Hill was momentarily in discomfort because of it. Hill came back though, and helped the Dolphins win the game, 20-13.
Hill was stopped on a four-and-one play by the Raiders' defense which resulted in the injury. The Dolphins, however, weren't deterred and once Hill returned, they won the game convincingly. The star receiver finished with 10 receptions for 146 yards and one touchdown. By doing so, Hill became the first player in NFL history to record more than 1,200 yards in the team's first 10 games of the season.
Hill doesn't seem too worried about his injury though, as he is expecting to play on Sunday. However, the one thing he is "bummed" about is not being able to play his favorite game, Fortnite. Hill said:
I think I'll be fine. The only thing I'm really bummed about I won't be able to play Fortnite.
The All-Pro receiver seems to have his priorities set when it comes to his favorite video game.
The Dolphins improved to 7-3 after their win over the Raiders on Sunday. They are having a great season and are one of the favorites to represent the AFC in this year's Super Bowl in February. Their next game is against the New York Jets on Friday at the MetLife Stadium.
Tyreek Hill reacts to Marquez Valdes-Scantling drop catch during the Chiefs-Eagles game
The Kansas City Chiefs played their week 11 game against the Philadelphia Eagles on Monday Night Football. It was a rematch of Super Bowl LVII. The Eagles lost the Super Bowl by three points, however, they got their revenge on Monday as they defeated the Chiefs, 21-17.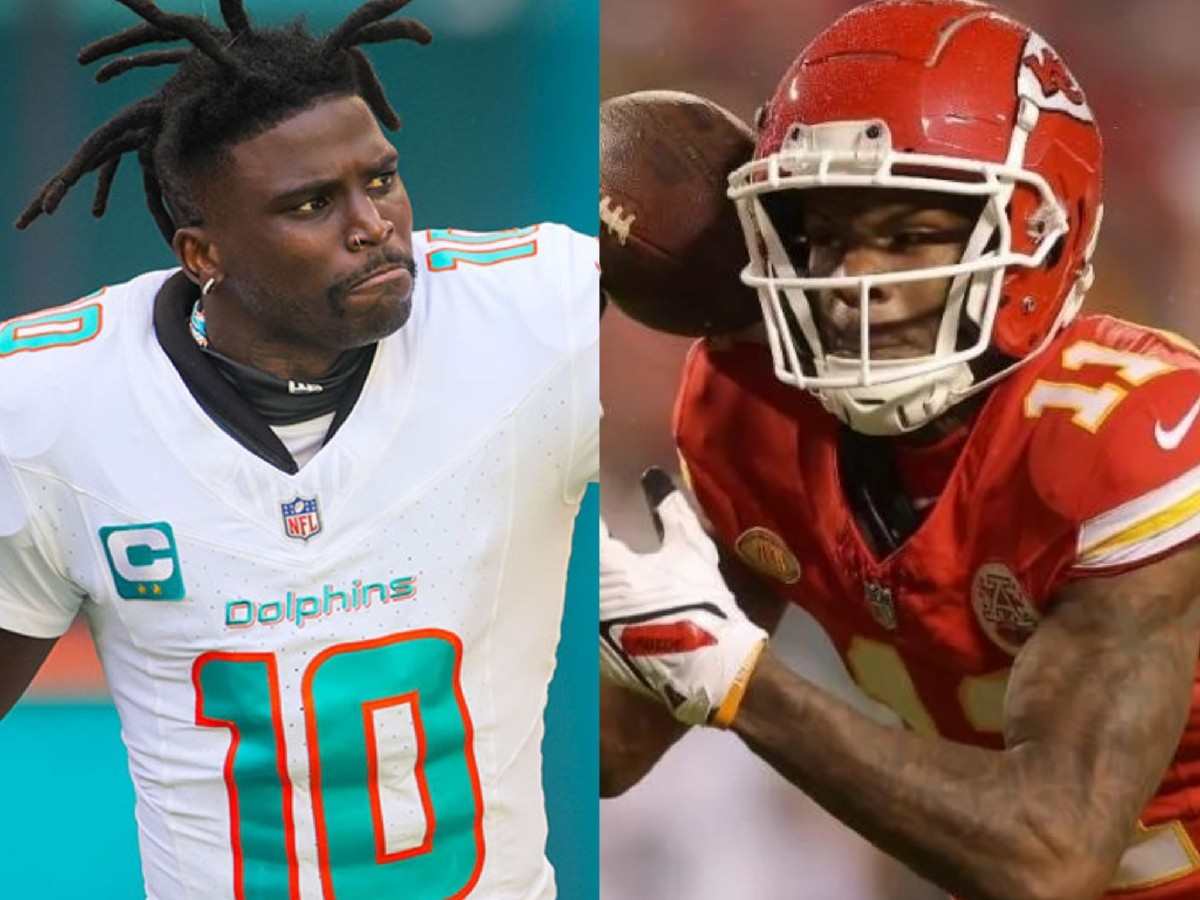 The Chiefs had a chance to win the game, but their WR Marquez Valdes-Scantling dropped a crucial deep ball late in the game which resulted in the Chiefs losing the game. Former Chiefs WR Tyreek Hill reacted to the drop on Twitter. He defended his fellow receiver by tweeting:
Everybody thinking that catch easy at night in them lights.
The Chiefs slipped to 7-3 after the defeat, whereas the Eagles improved to 9-1. The Kansas City-based team took an early 10-point lead in the first half but failed to hold on as the Eagles completed the comeback. The Chiefs will visit the Allegiant Stadium to play the Las Vegas Raiders in their next game. The Eagles on the other hand will welcome the Buffalo Bills at the Lincoln Financial Field next Sunday.